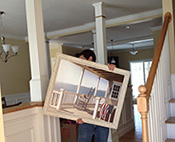 Moving can be a hassle. If you're doing it yourself, or even just rearranging furniture in your house, it's important to save your health and back by employing proper lifting techniques. Continual stress and strain on your back can cause health problems down the road, so make sure you do everything you can to mitigate any problems before they become real issues.

Moving items alone:
Lift with your legs, not your back
Everyone has heard this term – lift with your legs, not your back. This is an important proper lifting technique! But what does that really mean? When you're picking up an item, especially a heavy one, you want to make sure you're straightening your legs and not your back. You want to make sure when you're handling items that the weight is not being distributed along your spine. Your back already has enough to lift with the weight of the rest of your body – don't make it do any extra work!
When moving items, make sure you carry them as close to your body as possible. This way, you're not offsetting your center of balance. This will help you not to lose your item, trip, or fall. When rotating, turn your feet and not your spine. Be careful, however, not to arch your spine backwards if you're carrying a particularly heavy item. You don't want to strain your spine needlessly. If the item is too heavy or awkwardly shaped to move on your own, don't be afraid to ask for help. Sometimes even using a proper lifting technique can be difficult if the item is awkward or too heavy for one person.
This slideshow from Mayo Clinic can help you visualize proper lifting techniques for single person lifting.
Moving items with help (with a friend):
Don't be afraid to ask for help! Certain items can't be lifted alone, such as couches and awkwardly sized televisions. Sometimes you may even need a team lift if an item is particularly heavy. The general rule is that one person should only lift an item of 50 lbs or less, otherwise seek help moving the item.
Make sure that before you begin your lift, check to make sure your path is clear of obstructions and hazards. This is a big part of your proper lifting technique! Make sure there's nothing anyone can trip on, and make sure that your item you are lifting will fit through doors and hallways before you move it. If you are moving during the winter, make sure any ice or snow is removed from doorways, walkways, and driveways. Make sure you've sanded and salted; imagine moving something like a dresser and slipping on a small patch of ice — Ouch!
Only lift as much as each person can handle. If your friend is struggling to lift a heavy or awkward item, they may not be the right friend for the job. Don't risk injury making someone take more weight than they can handle going down stairs… A little preparation can go a long way.
Lifting tools exist to help you move items. Products like the forearm forklift and magic sliders can help you move things from one spot to another.
When all else fails, leave it to the professionals – CLR Movers can help you move things right without the stress and strain on your body.