Continuing our conversation about how to move awkward items, we decided to tackle one of the most difficult items of all: pianos.
Pianos are tricky beasts. For all their size, they're surprisingly delicate — even the slightest bump can cause disruptions in pitch and tuning, damage interior mechanisms, or break off important pieces.

This is one awkward item you might wish to leave to the professionals, especially as most of them can weigh anywhere between 400-800 pounds, and tend to be very expensive to replace. Grand pianos in particular are extremely sensitive, and should only be moved by a specialist.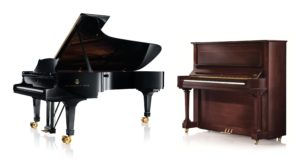 However, if you're feeling adventurous and you have an upright piano to move, you can try these tips. Be warned, however, that the chances of hurting your back or your expensive instrument are still very high! Don't forget — we can always move that piano for you.
Ask others for help moving the piano, as doing it by yourself is pretty much impossible. Make sure you have a minimum of four people to assist you: two in the front, and two in the back.
Have the right equipment: heavy-duty strapping, a furniture dolly, padding to protect the piano, and a moving truck with high walls, are all important for a safe transition.
Make sure the keyboard lid is closed and locked, or else wrap it with stretch wrap. Beware using tape on any surface of the piano, as it could ruin the finish of the wood.
Bundle up the piano with padding or thick blankets, holding the fabric in place with packing tape. You'll want to be especially careful of the corners, as they are most likely to be bumped in the moving process.
When it's time to lift it, remember that upright pianos have all their weight in their top half, and that the feet and legs of a piano are known to be fragile. Keep the piano in an upright position, to prevent damage to the inner structures.
When placing the piano in the truck, be sure to position it against the wall closest to the cab and up against one of the side walls, for maximum support. Be sure to be thorough when securing the piano in place with the strapping. If it has casters, make sure they are in a locked position.
Once it's time to move in, reverse the above instructions. Make sure you know where the piano is going beforehand, and be sure to choose a place away from dampness and cold.
Once you've finally finished this herculean task and your piano is settled into place, make sure to have it tuned. It's very likely that the inner mechanisms have been jostled in the move, and a professional tuner can return it all to rights.
Good luck!
Do you have any stories about moving pianos? How did it go? Feel free to leave a comment and share your experience!