As Halloween draws near, ghost stories and tales of the supernatural become all the more intriguing. Though New Hampshire is a small state, it is rife with tales of supposedly haunted graveyards, inns, restaurants, and hospitals. Being one of the first states to be colonized in 1663, the 9th to join the United States of America in 1788, and once having been well-populated by native american tribes, it's not so surprising that New Hampshire hauntings are common and ripe with history. Here are a few noteworthy sites, to get your spook on.


The Chase House, Portsmouth
Built in the late 19th century, the Chase House was a home for orphaned children, and eventually became a court-appointed children's home. Supposedly, a young girl hung herself in her bedroom, and ever since she has been seen in the hallway during the dark of night. If approached, she runs away and disappears. Some reports claim that her screams have been heard from inside her old room. Other ghostly activity includes electronics turning themselves on and off, and locked doors opening all on their own.
Margaritas Mexican Restaurant, Concord
Located in the former county jail, the restaurant chose to preserve some of the old jail cells and has turned them into private seating. Reports claim that a ghost nicknamed "George" has a tendency to throw food, move furniture and table settings, drink unattended beverages, and generally make a nuisance of himself to staff and customers with his ghostly pranks.
The Three Chimney's Inn, Durham
In 1649, the original parts of the inn were built by the Hill family. Valentine Hill's daughter, Hannah, is believed to have drowned in the nearby Oyster River sometime after she turned 20-years-old. In 2000, Karen Meyer became the Innkeeper, and reports to have had a firsthand encounter with paranormal activity: She claims that the music suddenly turned on, the air got a heavy feel to it, and that she felt a hand on her shoulder, after which she fled for the night. Since then, Karen and several of the inn's staff and guests have reported electrical problems, doors that lock by themselves, and even some sightings of Hannah and an unnamed male spirit. There are numerous stories, which might make The Three Chimney's Inn the most haunted inn in New Hampshire.
Island Path Road, Hampton Beach
According to legend, Eunice "Goody" Cole lived at the end of Island Path road, and was accused of witchcraft in 1656 and 1671. She died of natural causes in 1680, but not before going through years of hateful persecution. The story goes that vengeful townspeople buried her with a stake through her heart. Supposedly, kinder neighbors eventually buried her properly near the modern-day Meeting House Green. However, there are still claims that the area around Island Path is haunted. Reports range from moving objects, strange lights, and a figure that appears in the fog. Perhaps her spirit hasn't forgiven the townspeople who were so cruel to her?
Ocean-Born Mary House, Henniker
A rare New Hampshire pirate story, and also one of the more famous New Hampshire hauntings. In 1720, notorious pirate Captain Don Pedro captured the ship "Wolf" off the shore of Massachusetts. Legend has it that when he noticed a red-haired baby that had been born that very day, he promised to spare all of the lives on board if they named the child after his mother, Mary Wallace. That day, the baby was named "Ocean-Born" Mary Wallace.
Later on, when Mary had grown up and already become a mother and widow, Captain Pedro tracked her down and the two wound up marrying. They settled in a mansion overlooking the town of Henniker for many years. One day, tragedy struck, when Mary found the body of her murdered husband on the grounds. Mary buried him under a large hearthstone in the kitchen.
Mary died at age 94 in 1814. Since then, the ghost of a tall, red-haired woman with glowing green eyes has appeared in the upstairs window and on the main staircase. Many occupants of the house have reported feeling Mary's presence and some believe that she protects the house from harm. Mary's two-story wood-frame house is still a private residence, and Mary was buried in Centre Cemetery behind the Henniker town hall.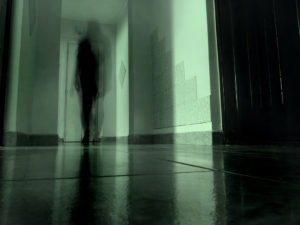 These are just some of the many New Hampshire hauntings. We'll have more to share later this month. As a reminder, some of these locations are on private property. If you want to explore some supernatural occurrences, please be respectful. You wouldn't want to upset the spirits, would you?