As summer marches on, more and more interesting things are beginning to happen in the Northern sky. With the warm nights and clear evenings, there's much to see up there, from meteor showers to planetary conjunctions. Check out this list of celestial events happening in the northern hemisphere this year, and don't miss out on the wonder of New Hampshire nights!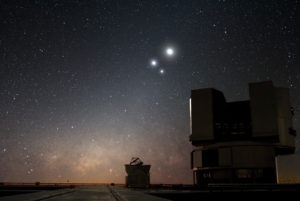 July 28th-29th, 2016
Delta Aquarids Meteor Shower
Starting off with a smaller shower, the Delta Aquarids offer about 20 meteors per hour at peak viewing. Keep an eye out on the night of July 28th into the early morning of the 29th, from a dark location.
August 11th-12th, 2016
Perseids Meteor Shower
One of the most prolific of meteor showers, the Perseids produces up to 60 bright meteors per hour at peak viewing. The moon will go down right after midnight, allowing for a good dark sky to view this celestial event. Find a dark location and settle in for a good show.
August 27th, 2016
Conjunction of Venus and Jupiter
Venus and Jupiter will be visible in the night sky as they form a conjuction, appearing to be only 0.06 degrees apart. Look to the western sky just after sunset to see these two bright planets side-by-side.
September 22nd, 2016
Autumnal Equinox
While there isn't a meteor shower or other striking event, the Autumnal Equinox is still interesting as it marks the first day of Fall. An equinox happens when the sun shines directly on the equator, causing equal amounts of day and night throughout the world. Enjoy the equinox and welcome Fall to New Hampshire!
October 21st-22nd, 2016
Orionids Meteor Shower
A beautiful shower known for creating the brightest meteors, the Orionids will be visible on the evening of October 21st. While they only average to about 20 per an hour, they're hard to miss and make for easy viewing. Try to find a dark location, as these meteors will be competing with the light of a half-moon.
December 13th-14th, 2016
Geminids Meteor Shower and Supermoon
Sadly, the normally vibrant Geminids meteor shower will likely be outshone by the supermoon on the evening of the 14th. However, given that the Geminids are normally the brightest and biggest shower of the year, it still might be worth your time to settle outside for a night of stargazing–after all, it's not often we have two celestial events at once! As always, a dark location will offer the best sights.
We hope you have a chance to enjoy these gorgeous celestial events. Did we miss any noteworthy upcoming events? Did you view any of the earlier events from 2016? Let us know in the comments!