When arriving in a new town, it can be hard to know where the local swimming holes are, or how close you might be to a refreshing lake or sandy beach. In the spirit of keeping cool, we've gathered together the best places to swim in New Hampshire! Whether you're a new resident, camping, or just looking for a fun day trip in our beautiful state, we've got you covered. Just don't forget your sunscreen!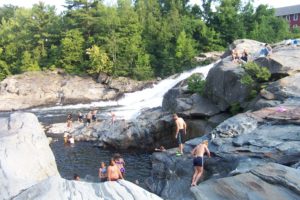 Ye Ol' Swimming Holes
Swimming holes are deep places in a stream or river that are perfect for swimming. Just remember, these are not monitored swimming zones, and those who choose to take a dip do so at their own risk!
JACKSON FALLS
Jackson, NH
One of the more popular places to swim for families, this swimming hole offers 200 feet of slides, pools, and waterfalls. There is even a natural stone bench under one of the falls. Picnic tables are offered, though fill up quickly, so try to make an early day of it! Be careful at this location, as some of the pools are very slippery.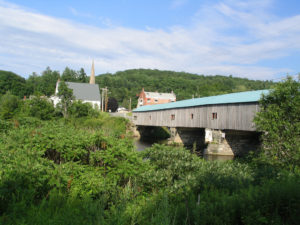 SWIFTWATER FALLS
Bath, NH
Positioned under a long wooden covered bridge and below two waterfalls, Swiftwater is perhaps one of the most picturesque swimming holes in New Hampshire. Located 30 minutes west from Lincoln and Woodstock, and accessible off the Kancamagus Highway, this is one of the easier locations to get to. It also offers a large parking lot and a relatively warm, natural pool for swimming in.
New Hampshire Lakes
Due to being located in the Lakes Region, New Hampshire has many, many lakeside beaches to choose from. Here are a few that are exceptional places to swim!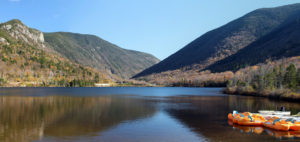 ECHO LAKE BEACH
Franconia, NH
With a breathtaking view of the wooded slopes of Cannon Mountain ski resort and Franconia Notch overlooking the lake, Echo Lake Beach is one of the most beautiful places to swim in NH. The lake spans 39 acres, offers boat rentals and a nearby general store, and requires a minimal fee of $4 for adults, $2 for children.
ELLACOYA STATE PARK
Gilford, NH
Located on the southwest shore of Lake Winnipesaukee, Ellacoya offers camping, hiking, and picnicking areas alongside their 600-feet of sandy beach. There is an affordable $5 admission fee for adults, and $2 for children. Due to the beach's popularity and limited space, it is advised to arrive early in the morning, or risk being turned away at the gate. Check out these other great state parks in New Hampshire, as well!
Seaside Beaches
Sadly, New Hampshire doesn't boast much of a coastline, but what we have, we keep clean and fun. Enjoy the fresh sea air at these fabulous coastal beaches!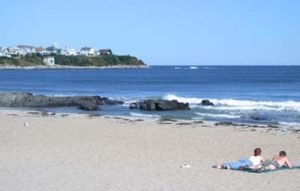 HAMPTON BEACH
Hampton, NH
Possibly the most popular of the NH beaches, Hampton sports a long boardwalk, many hotels and restaurants to choose from, and was ranked #3 in the United States for cleanest beach. With fireworks every Wednesday at 9:30pm, tons of events like the annual Sand Sculptures and concerts at the Casino Ballroom, there's tons to do. Parking can be tricky, especially later in the day, so make sure you bring cash for meters or lot fees.
JENNESS STATE BEACH
Rye, NH
Smaller than Hampton, but also less crowded, Jenness State Beach is a good, quiet beachfront getaway. It offers a bathhouse, metered parking, and pay stations that accept both cash and card. There are only 67 parking spaces, however, so arrive early to get your spot. Lifeguards are on duty from 10:00am to 4:45pm.