With Valentine's Day fast approaching, you might be trying to come up with some ideas for how to spend your holiday. Fortunately, there are plenty of romantic things to do in NH, from enjoying the view of our beautiful mountain ranges to taking in works of art. Here are some of our favorite New Hampshire destinations to put a little magic into your romantic getaway.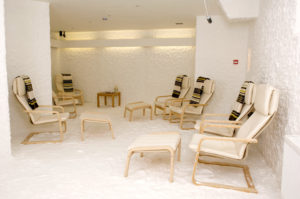 Located in Salem, NH, the Salt Cave is an exotic day spa that is just gaining ground in the United States. Salt therapy–administered by sitting in a warm cave made of pink himalayan salt and breathing in the miniscule particles in the air–is believed to passively treat all sorts of ailments, including respiratory problems, skin conditions, allergies, and sinus infections. Nothing says "I love you" like helping your significant other to get over that unfortunate cold!

If you're looking for something a little more outdoorsy and whimsical, take a trip to the Ice Castles in Lincoln, NH. This unique, man-made structure features ice slides, several sculptures and fountains, icicle-decorated caves, and a musical light show once night falls. Outside, enjoy some hot cocoa or cider, or explore the Hobo Railroad station and gift shop. Just make sure you dress warmly–boots are a must!–and consider buying your tickets in advance to be certain you get in.
Cozy, inviting, and serving delectable food, The Chesterfield Inn is a delightful New Hampshire getaway. It features many different rooms with unique styles and views, including a few with romantic fireplaces. Chesterfield also offers complimentary wi-fi, a mini fridge, a flatscreen TV, and plenty of privacy. As wintertime is considered the off-season for many Inns and Bed & Breakfasts, you might also score a nice deal. Check out their couples packages for a romantic weekend away!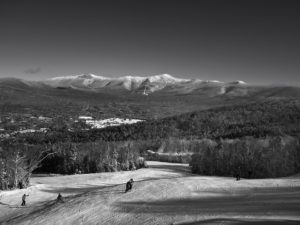 While skiing in the cold White Mountains might not be at the top of your romantic things to do in NH list, these resorts offer more than just winter sports. Many are located near picturesque villages that feature great shopping and dining opportunities, and seasonal activities like sleigh rides, bonfires, and ice skating. Loon Mountain, Waterville Valley, and Gunstock are just some of the enjoyable resorts New Hampshire has to offer. Explore their amenities to discover swimming pools, outdoor hot tubs, and beautiful views of the snow-dusted mountain ranges.
For those who prefer indoor pursuits, enjoy some local culture at the Currier Gallery of Art in Manchester, NH. This intimate gallery displays American and European works of art, from historical classics to modern styles. They also have a wonderful collection of handcrafted furniture, sculptures, glass, and ceramic works. Enjoy their complimentary "mobile tour," which you can view right on your smartphone. The Currier also offers a variety of art classes at their Art Center and a Winter Garden Cafe.
Additionally, Manchester hosts the Millyard Museum, SEE Science Center, Manchester Historic Association, Amoskeag Fishways, and NH FIRST. If you find yourself with some time to kill after enjoying the gallery, consider visiting another fun and educational museum.
We hope we've given you some inspiration with our suggestions for romantic things to do in NH. Whether you've just moved here or are simply visiting, we wish you a safe and happy Valentine's Day!


Do you have any suggestions for romantic things to do in NH, or a favorite story to tell about the ones listed above? Let us know in the comments below!