Fall is here! That means a lot of things… Pumpkin spice everything, leaf-peepers, the colors changing, raking leaves, and so much more. What are the best ways to celebrate fall in NH? You may be thinking fairs and festivals, and you wouldn't be wrong. NH's Deerfield Fair runs Sept. 28th to Oct. 1st this year (and is over as of publishing this), but if you missed the Deerfield Fair, there's still plenty you can do.
Topsfield Fair
September 29th, 2017 to October 9th, 2017
One of my favorite fairs ever! It's in Topsfield, Massachusetts, but it's a fun ride down with lots of things to do when you get there. From traditional fair things such as largest pumpkins, honey bees, livestock, fair food (mmm fried dough), rides, and more, there are also all kinds of other things specific to only the Topsfield fair. This includes a dog show with tricks! Check out their daily schedules on their website for more information.

Dover's Apple Harvest Day
Saturday, October 7th, 2017
Dover, NH holds yearly an apple harvest day festival with all kinds of NH artisans and vendors. Music, arts & crafts, family fun, and lots more to do from 9 AM to 4 PM at this festival in downtown Dover, NH! Check out their website for more information.
NH Pumpkin Festival
October 13th, 2017 to October 14th, 2017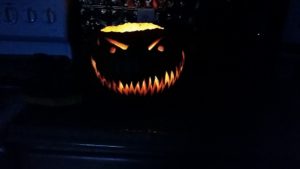 This community-hosted family friendly event formerly known as the Keene Pumpkin Festival is a great thing to do at night from 4 PM to 8 PM either day. It takes place at night so you can see all of the wonderful pumpkin carvings from around NH lit up and in their full glory! This year they're boasting 20,000 jack-o-lanterns… That's a lot! For more information, check out their website.
It's Alive! Classic Horror and Sci-Fi Art from the Kirk Hammett Collection at Peabody Essex Museum
Through November 26th, 2017
This exhibit is something you don't want to miss! At the Peabody Essex Museum in Salem, MA Kirk Hammett of Metallica fame has leant just a few of his horror and sci-fi original movie posters, props, and more. You can also see some of his guitars at the event, which is great as well. For more information, visit the Peabody Essex Museum website.