The holidays are a fantastic time of year with lots of awesome events happening all over for individuals, couples, or for families. We've compiled a list of must-see NH events that happen around the holidays that you won't want to miss.

1. The Ice Castles in Lincoln, NH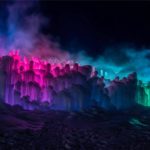 The Ice Castles in Lincoln are a fantastic place filled with wonder and amazement! It's like stepping right into the arctic. You get to walk through these lit up ice castles, meet a frozen enchanted princess, and more. They're not currently open as of writing this post, but they will be soon as the temperature drops. Take a look at their website for more information.
2. Santa's Holiday Express in North Conway, NH
Happening Dec. 17th, the Conway Scenic Railroad presents Santa's Holiday Express. Santa and his jolly elves will be on board with magical train ride (about a two hour trip)! Definitely don't miss this scenic experience and fun for all ages. Check out their website for more information and to buy tickets.
3. The Nutcracker performed by Northeastern Ballet Theater
The best ballet performers outside of Boston will be performing the Nutcracker on Dec. 10th, 2017! Don't miss this entertaining classic with fantastic performances by skilled ballet performers. Tickets start at $17.50. For ticketing information, check out their website.
4. The Gift of Lights in Loudon, NH
Over two miles of lights, holiday scenes, and more at the New Hampshire Motor Speedway is up through Dec. 25th, 2017! If you're looking for the perfect glamorous light display, don't miss this stunning display! Tickets start at $20 each. For more information and to buy tickets, click through to their website.
5. Jingle Bell Chocolate Tour in Jackson, NH
This must go-to event is quickly selling out! Ride in a sleigh pulled by Austrian horses as you stop at various stores to try out chocolates around New Hampshire! Riders will ring jingling bells at each stop. For more information and tickets, check out the chamber of commerce website.