One of the biggest problems with moving is how to move all of your furniture in the best way possible. While there are some furniture pieces you don't really care about, such as an old bum couch, there are often times more expensive or sentimental pieces of furniture you will want to protect as much as possible. How can you protect that furniture?

Make sure you know what's already damaged
You're going to want to inventory your furniture to make sure that any dings, marks, or scratches are already there beforehand. This is especially important if you're hiring a mover. You're going to want to know if during a move furniture is nicked, scratched, or damaged — especially if it's antique or sentimental furniture. The best way to inventory your furniture would be to take photos of damage that already exists. That way you'll have a detailed record of what may already be marked up in case you need to file an insurance claim.
Hire a professional mover for antique and sentimental items
If it's too big for you to put in a purse or have on your lap in the car, you're going to want to hire a professional mover to move your most precious items. While you may feel apt to do-it-yourself, keep in mind that professional movers move items successfully every single day. A professional mover knows the best way to protect your most precious furniture, and they know the best way to pack it so it doesn't get damaged. They also have the ability and manpower for multiple people to help move an item, minimizing the amount of risk for it getting dropped or nicked.
Disassemble any furniture that can be disassembled
Often times we forget that a lot of furniture can be disassembled. Kitchen tables can often be broken down to just the table part and the legs. You can also take feet or legs off of couches to help fit them in tight spaces such as squeezing it through a door or getting it on a moving truck. Collapse other items such as shelving units as best you can to make a move of these types of furniture easier. Make sure to keep any nuts, bolts, or otherwise in a bag with the name of the piece of furniture on it, or tape it to the actual piece of furniture so they don't get lost in the jumble.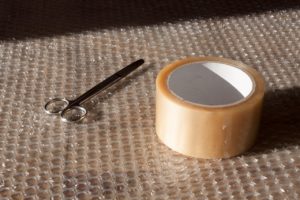 Items you may need to pack your furniture safely and effectively:
Furniture blankets. These heavy-duty blankets can help keep your items from being jostled and scuffed. You can also use blankets from your home, but keep in mind they may get damaged.
Bubble wrap. Bubble wrap, used liberally, can definitely help keep your items safe! Wrap legs or fragile parts of your furniture with this.
Cardboard. A sheet of cardboard can be a good insulator for mirrors or glass parts of your furniture if you want to stack them together.
Shrink wrap/pallet wrap. This is great to keep your items dry and keep them together. If you want to make sure you don't lose any legs or collapsed items on your furniture, secure them to the furniture with pallet wrap.
Packing tape. Of course, don't forget the tape to secure all of your wraps, boxes, and otherwise.
Got any tips for us to prepare furniture for moving? Let us know in the comments below!