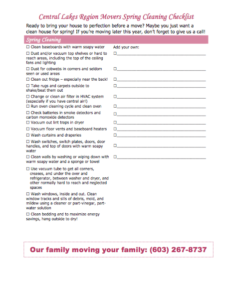 With the first day of spring a couple of days ago, it's hard to believe it is actually spring, especially in New Hampshire with the overabundance of snow everywhere as well as the forecast for more snow on the way. Even if the big melt may be a little ways off, it's worth starting your spring cleaning now and really tackling things in your home that may get little attention or be neglected entirely.
We've compiled a useful checklist for you to jump start your spring cleaning. Keep in mind if you plan on moving later this year, a little spring cleaning can help you to move less items or do less work once you move out. Use the checklist below, or download our PDF checklist and print it out to leave on your refrigerator or elsewhere to check things off one at a time!

Clean baseboards with warm soapy water
Dust and/or vacuum top shelves or hard to reach areas, including the top of the ceiling fans and lighting
Dust for cobwebs in corners and seldom seen or used areas
Clean out fridge – especially near the back!
Take rugs and carpets outside to shake/beat them out
Change or clean air filter in HVAC system (especially if you have central air!)
Run oven cleaning cycle and clean oven
Check batteries in smoke detectors and carbon monoxide detectors
Vacuum out lint traps in dryer
Vacuum floor vents and baseboard heaters of debris
Wash curtains and draperies
Wash switches, switch plates, doors, door handles, and top of doors with warm soapy water
Clean walls by washing or wiping down with warm soapy water and a sponge or towel
Use vacuum tube to get all corners, creases, and under the over and refrigerator, between washer and dryer, and other normally hard to reach and neglected spaces
Wash windows, inside and out. Clean window tracks and sills of debris, mold, and mildew using a cleaner or part-vinegar, part-water solution
Clean bedding and to maximize energy savings, hang outside to dry!
Did we miss anything? Let us know in the comments below or tell us on Facebook!