2016 Cleanup: Getting rid of old items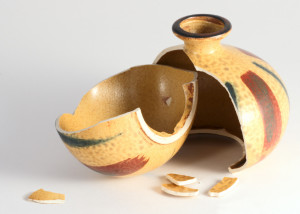 If you're planning on moving, you'll be going through a lot of stuff trying to make sure you aren't lugging things from place to place needlessly. You want to make your move and subsequent unpack as easy as possible. So what do you want to look at to throw out?
Of course, the first idea for your 2016 cleanup is anything that is broken you will want to get rid of. Anything you plan on replacing very soon you might as well toss. Planning on a getting a new TV for your space? Toss the old one (or better yet, if it works, donate it) BEFORE you move so you have less to lug around.
There are services that can help you with particularly large items. For example, the Salvation Army can schedule donation pickups. They will bring a couple of guys and a big truck to come pick up your items. You don't have to let them into your house, though, you can leave items for them at the curb, if you so please. Keep in mind that a service like the Salvation Army donation pickup won't take certain items, so make sure you so your research before.
You can also list on craigslist any items you want to get rid of, but aren't really broken and you think someone could get some use out of. Items listed as FREE will go quickest, obviously, but you can make a couple of dollars selling items off craigslist, too. Just make sure you take heed with our Seller Beware blogpost before accepting any sketchy offers.
One thing people seem to have a lot of is dinnerware. How much should you actually have? Here's a quick guide that can help you determine how many plates and cups you might actually need. You may find you have way more than you actually need to ever use!
Other items you can cull in your 2016 cleanup are:
– Decorations that are broken or you don't use
– Clothing you don't wear (donate it before you move!)
– Broken, old, or destroyed pet toys and beds
Got some ideas? Let us know in the comments below!