New closet space during your 2016 cleanup will make you happy in the new year!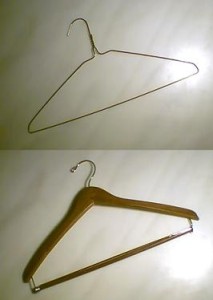 Who doesn't like getting a new wardrobe? The problem is, if you're like us at all, you won't be purchasing new clothing unless you can make space in your closet. Often, my idea is that if I toss one item, I can buy one item… Or if I'm at the store purchasing clothes, mentally I have to decide to toss an item as well.
That's one way to go through your 2016 closet cleanup. Aside from the usual tossing items with holes, stains, or look ragged, are a couple of other methods some people find work for them.
One great idea is with hangers. What you do is you turn all of your closet hangers around and hang your items in the closet the wrong way. When you take an item out and wear it, you hang it back up as you would normally. After a few months (you can choose your timeframe for what works best for you), any of the items that haven't been turned around you can go ahead and donate, because you haven't worn them thus far, therefor you probably won't be wearing them soon.
If you use under the bed storage or any other box storage, you can also use the box method as we described in the first 2016 cleanup post we made, where you pack it up and leave it for months, then toss it if you don't open it.
So what are you going to do with your new closet space? Are you going to go on a new wardrobe shopping spree? Let us know in the comments below!