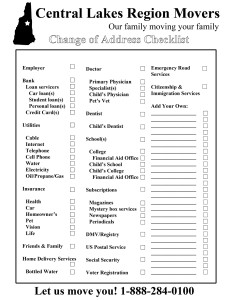 You're moving… Wahoo! Don't forget your change of address! Remembering where to change your address can be difficult. There's a lot of places that use your address to send you things, whether they're coupons or just reminder flyers. You don't want to forget any potentially important billers (or if you're getting checks in the mail). We've compiled a checklist of who you should notify when changing your address.
This is a small list of the basics you should notify of your change of address while moving… We have a great printable checklist for you to use to make sure you've notified everyone of your change of address.
– Your employer
– Your bank/credit union
– Utilities
– Credit card company (if separate from your bank/credit union)
– Any insurance policies (Health, car, life, vision, home, etc)
– Any schools (Your college, your child's school or college, etc)
– Your doctor and/or dentist (Don't forget, if you have children, to also notify your child's doctor and/or dentist a well)
– Your pet's doctor!
– Any current subscriptions you may have (Magazines, etc)
– Friends & Family
Here's a great printable change of address checklist we've created just for you! It includes many of the places you would likely need to change your address with. We also included a column of areas you can write in your own change of address places.
Don't forget — you can change your address with the US Postal Service online. Use the link here to get started. You can start forwarding your mail with the USPS, and even put in a temporary change of address to forward mail to in case you plan on moving again soon (or you're moving back). You can also change business addresses using the link above.
Are we missing anything important? Let us know in the comments below!