Happy 2017! We know that things can often be forgotten in the hustle and bustle of the holidays. If you plan on moving in 2017, it's important to be organized. Organization can be hard, especially if you're like a lot of us and aren't naturally prone to organizing things. A little preparation can go a long way when it comes to a big life change such as a move.
Let's break it down.

Cleaning out your home
You may have a routine where you clean certain things on certain days, or maybe you have a cleaning schedule. We posted in 2016 a three part blog post on how to start cleaning your home from top to bottom. These blog posts included great tips such as trying to keep from falling into any hoarder-esque tendencies, services that can help you remove large unwanted items, and how to clean out your closet. These are all wonderful tips that can help you start with a clean slate for 2017. Less things equals less clutter, which in turn makes it easier to organize your items. Once you've cleaned, it's time to start the organization process.
Decide what needs to be organized
Maybe it's the mess in your closet, your collection of shoes crammed under the bed, or your deep, dark pantry full of old, expired food you don't even know when you bought. Let's talk about some organizational methods and great products you can use to help get you organized.
Closet Organization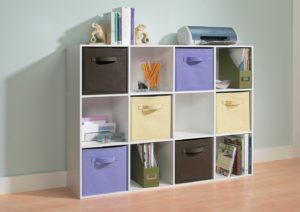 Expandable closet organizers are a great way to try to organize your closet space. If you only have a pole for your clothes, adding shelving and drawers can certainly help get your organization process started. There are also great products such as cube organizers. You can use as many or as few as you like, and you can purchase fabric collapsible cubes in various colors that slide in and out of the cube slots.
Craft Organization
Maybe you're a crafter or your have a hobby with a lot of small items that need to be organized. We just love these rolling carts that come in a variety of sizes with all kinds of different size drawers. We love the fact that they have wheels on them so you can roll them in and out of the way when you need them.  These carts can make organizing things a breeze!
Another thought is that if you have small or tiny pieces of something, such as you're a jewelry crafter, you can always utilize the help of tackle boxes or toolboxes to organize your pieces. These often come with a lot of slots and trays to begin with, so cleanup and finding your items can be a breeze.
Under Bed Organization
Whether it's shoes or anything else, these fabric under the bed shoe organizers are a great way to organize relatively small things under the bed. You can fit all kinds of things in the slots, not just shoes, and the handle on the side makes it incredibly easy to pull it out when you need it. Most these fabric organizers come with zippers on either side as well, so unzipping and zipping it back up is easy. You can also get them in various sizes to sort things such as wrapping paper or clothes.
Don't have room to put things under your bed? Putting your bed on small risers can give you a little more storage space, and then putting a bed skirt on can help you hide your items under the bed from view.
Another idea is to use under the bed rolling tupperware organizers. These ones are made to slip under the bed, and the use of wheels on them help you to slide them out and back easily. Since they're one big compartment, you can fit clothes, blankets, or any other item, and since they're plastic, you don't have to worry about them getting wet or ruined. They can also fit under some couches, which is a plus if you're limited on space!
The great thing about plastic organizers is the fact that they come with so many different lid colors, so you can color code your organization process so you know exactly what you're looking for. You can also add labels or write on the fronts, making finding things super quick.
Things that open to things
We just love the idea of storage being hidden inside of other items. For example, this in the wall toilet storage kit is a great way to keep your plunger and toilet cleaning items out of view if you're limited on space. There are all kinds of great home improv ideas on the internet where you can carve out space in the walls between studs to store things. We found a Pinterest board full of these ideas if you're limited on space and want to store things away. A lot of these are almost like built-ins, but actually punch into the unused space in a wall.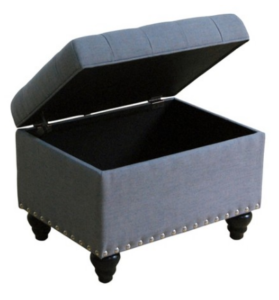 One of the easiest to find hidden storage items is storage ottomans. Not only are they a footrest, a place to sit, and also a design statement, they also open up so you can store a ton of things inside of them. You can find these nearly anywhere, including Target and most major retailers.
They come in all shapes and sizes, from long to small, so you can fit such things as wrapping paper and more inside of it.
Got more organization tips? How do you organize your home? Leave your tips in the comments below!